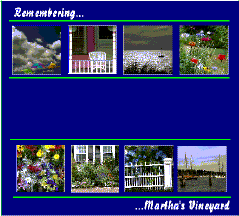 The mousepad image here is from the original art we used for production, so it's a good example of the colors and image quality. The pad measures 9 x 7 1/2" and is printed on 1/8 inch foam with good top texture for great tracking. That's important for mouse-users The only variation you'll see is that the new products have rounded corners for better handling. All original photos are in full color, many with a Martha's Vineyard Summer blue sky background and all with some great Vineyard memories for everyone on your shopping list...and for you too!
THE PERFECT GIFT!
All photos are the property of Vineyard Views and are not to be reproduced for any purpose without the express written permission of Vineyard Views.
Dealer Inquiries Welcome
We have a full line of products that can be customized for your particular need.
Classic sailing ships and contemporary yachts from all over the globe, never fail to bring a stare of amazement from passers-by. When the ferry takes the turn at The Chop...can anyone help but take that deep breath of relief in anticipation of returning, to one of your favorite places on earth? When they see this photo...they'll remember, all over again. Order Today (for holiday giving)
Only $9.95 each, plus $1.50 shipping and handling or order 3 to five mousepads for just $3.20 priority mail shipping, up to 10 mousepads for $4.30 shipping.
Send check or money order (Massachusetts residents must add 5% sales tax) to:
Vineyard Views
P.O. Box 178
Raynham, MA 02767-0178
Allow 2-3 weeks for shipping.